Architecture Exhibitions International
Hours:
April–Oktober Mon–Sun 10 am–8 pm, November–März Mon–Sun 10 am–6 pm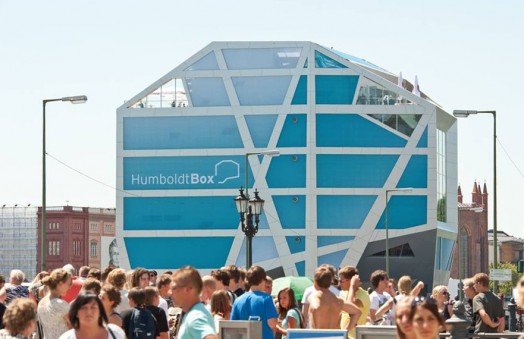 The Humboldt-Box in Berlin is an architecturally fascinating building, located at the Museum Island vis-à-vis from the cathedral and the Lustgarten.  It is designed to be a temporary solution. On an area of 3,000 square meters and with a height of 28 meter, its architectural appearance radiates on to the Berlin Palace site. 
As an information forum, a place for events and an information centre for the arts, sciences and culture, the Humboldt-Box presents itself as a striking solitaire, which is located on one of the most famous and historically important spots, in the heart of Berlin.
The Land Berlin and the Senate Authority for City Development gave the Humboldt-Box the task to become a representative showcase for everything that will be displayed in the future in the newly-built Humboldt-Forum on the Museum Island.  An informative adventurous location was created.  A social meeting place developed.
Special features combine the location with the Humboldt-Box.  Public cultural institutions present science exhibitions on art, culture and the society. Visitors enjoy the views on historic buildings on the Museum Island, which the panorama terrace and the observation platform offer…. Advertising areas on the outside façade attest to the message of exchange and communication. 
It is this fascinating mixture of history, culture, gastronomy, event organization – and the meeting of people at a truly history-filled location.