Architecture Exhibitions International
Hours:
Mon–Fri 10 am–4 pm, Sat–Sun 2–4:30 pm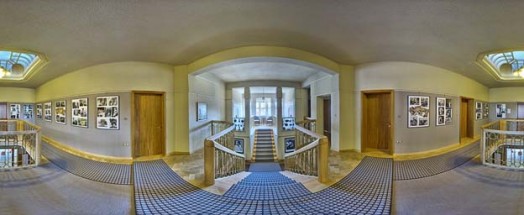 Galerie © Haus Schulenburg Gera
Even the surrounding walls cannot conceal the simple yet elegant beauty of the Schulenburg mansion. Together with the garden it represents an enduring legacy of style and design. It all began in 1906 when Paul Schulenburg, whose chief source of wealth was a textile plant, bought dining room furniture at the Dresden Art Fair. He was so enchanted by the work of Belgian artist and architect Henry van de Velde that he contracted him to build a mansion. Seven years later in 1913/14 the construction of the timeless beauty was finished. Van de Velde, considered an originator of the Art Nouveau style, was a universal artist. From book design to buildings, from to porcelain to paintings, from forks to furniture there was hardly a thing he didn't lay his hand on.
The history of the Schulenburg mansion reflects the history of Germany. Built as a home to the Schulenburg family it first had to survive two world wars. Being located in former East Germany, it was than home to a nursing school. Following the reunification of Germany it was deserted and destined to slow and irreversible decay. In 1996 Volker Kielstein, a medical doctor with family roots in the region that fell in Love with the mansion as a school boy, starts to preserve and rebuilt the Schulenburg mansion. It is now a historical site in Germany, just months away from full restoration of original beauty. All over Europe Mr. and Mrs. Kielstein searched for original blueprints, sketches, historic photographs as well as samples of fabric and wood. Together with the carefully preserved color and material samples that survived the cruel "modernization" of the building during socialist times, all serves as an indispensible resource to recreate the unique piece of art. This is best epitomized by the breathtaking staircase leading from the spacious entrée to the gallery in the first floor illuminated by natural light passing through glass roof of specifically designed tower. The new owners were lucky and persistent enough the find and purchase some of the original furniture, such as the original bed and vanity that, after a long journey through Europe and South America have now returned to their original location. 
The Schulenburg mansion is also home to the largest collection of book art by Henry van de Velde in Germany. Moreover, carefully researched and collected other pieces of art by Henry van de Velde reflecting his widespread oeuvre, are also on display. Unparalleled the Schulenburg mansion is the only exhibition to illustrate van de Veldes roots, his sources of inspiration and the influence his work had on other artist at the time, ranging from neoimpressionist sketches to pottery from Bürgel. The exhibition is rounded up by artwork of people close to Henry van de Veldes ideas and artistic spirit.  Work by sculptor Constantin Meunier and Richard Engelmann are on display. Book art of the arts and crafts artist Walter Crane are among the highlights of this collection which also contains rare work of Thilo Schoder, educated and mentored by van de Velde. As one of the view museums worldwide, the Schulenburg mansion also contains a collection of the Bauhaus bookbinder and book artist Otto Dorfner, prints of Walter Klemm published in the Reiher-Publishing house, headed by Otto Dorfner.   The large gallery is home to a unique portrait and flower paintings of Hilde Linzen-Gebhard, whose teacher Garry Melchers work can be found in the Art Institut of Chicago as well as in the Museum of Modern Art in New York.