Architecture Exhibitions International
Hours:
Mon–Fri 9 am–7 pm, Sat–Sun 10 am–6 pm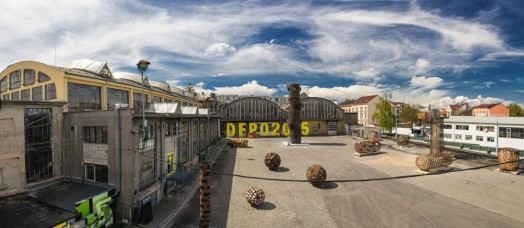 The DEPO2015 Creative Zone is a sustainable outcome of the Pilsen - European Capital of Culture 2015 project. At the former bus depot, you can find an open workshop called Makerspace offering a co-working space, interactive exhibitions, a café, a community garden, offices for hire, art studios, a space for artistic residencies and a hall for concerts, conferences and theatre shows. The main target group are professionals and non-professional enthusiasts from creative industries. We offer services of the Creative Incubator to start-ups. You can find workshops using modern technology such as 3D printing, a FabLab as well as more traditional crafts such as sewing, screen-printing and smithery. We create, we make, we exhibit and we sell - all in one place! We also organize a Czech-Bavarian festival called Treffpunkt in Pilsen and in Regensburg, the BLIK BLIK festival of light, Street Food Markets and the Weeks of Baroque in West Bohemia. We host many big festivals and sporting events.
We also think about families with children and offer interactive exhibitions, a café with a children's corner and many workshops focusing, among others, on recycling. Our aim is openness and open sources, sharing of ideas and thoughts, so please do not hesitate to contact us. You can start now...