Architecture Exhibitions International
+++ Please consult the website of the respective venue for current opening hours in response to local Covid-19 regulations +++
James Wines und SITE
Retrospektive 1970–2020
Hours:
Mon–Fri 2–7 pm, Sat 1–5 pm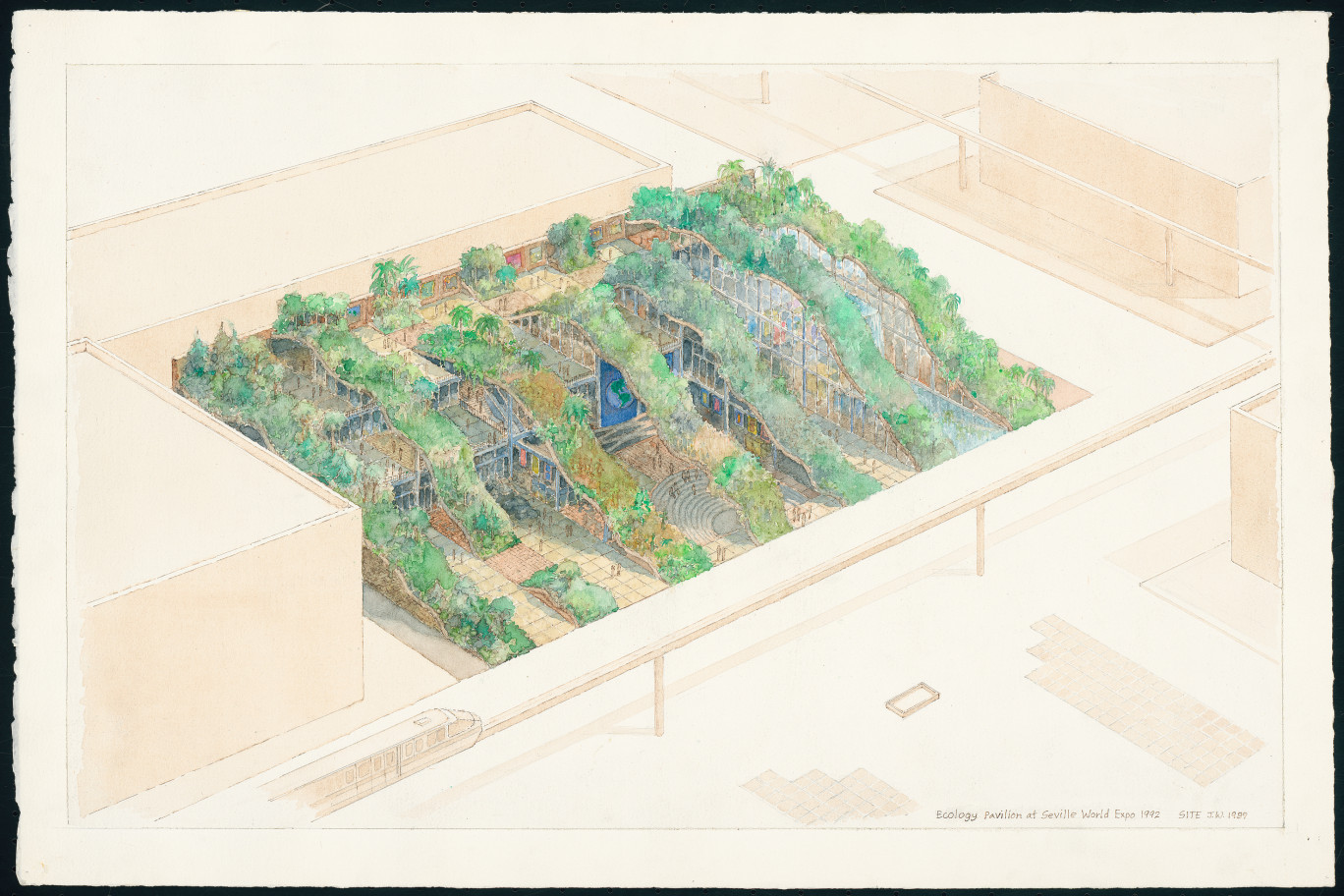 World Ecology Pavilion – Expo '92*, 1990, Aquarell auf Papier , 38,10 x 60,96 cm © James Wines
The exhibition presents around 60 drawn works by the artist and architect James Wines (born 1932), who already concerned himself with "green" architecture in the 1980s, when terms such as "climate change", "sustainability", "renewable energies" and "human scale" did not yet have the meaning in the world of building that they have today. Even then, Wines' idea of design was about combining contemporary art and sculpture with architecture, often from a socially critical point of view. This is how he created his most famous works for his architectural firm SITE (Sculpture in the Environment), including the branch showrooms of the BEST stores and Ghost Parking Lot.
The main theme of the exhibition is "Context as Content" – reference to the space and content of a context is a chief concern of all SITE's work. For example, the BEST stores are inspired by the throwaway culture, box-shaped shopping centers and the general approval of their ubiquity. Including a subliminal acceptance of everyday materiality in architecture unlocked the possibility of using art where the public least expected it – in this case along endless highways with stores. Before SITE intervened in the streetscape, these structures were never seen as anything but non-descript places to shop. Accepting the banality of the supermarket as a raw material for transformation opened up a multitude of non-formalistic interpretations: the inclusion of people's instinctive responses to everyday places as a source of interpretation for art in public space; the use of architecture itself as an object of art (and not as the goal of a conventional design process); the interpretation of buildings as criticism of themselves; the merging of landscape and architecture, which often makes it difficult to see where one begins and the other ends; the inclusion of socially, psychologically and physically activating "trigger elements" in parks, squares and gardens that encourage pedestrians to interact with each another and with their immediate surroundings.
Many of Wines' drawings, such as Highrise of Homes and Ghost Parking Lot, are now in well-known museum collections, including those of the Museum of Modern Arts in New York and the San Francisco Museum of Modern Art. Wines lives and works in New York.